Welcome to the Gunsmoke wiki!
Welcome to our wiki. We're a collaborative community website that has 787 pages about everything concerning the now iconic, legendary long-running CBS-TV western series Gunsmoke and the subsequent TV movies that were later made that anyone, including you, can edit. Click the edit button at the top of any page to get started!
About the show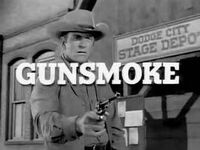 Gunsmoke is an American television series that ran from 1955 (the series was titled Marshal Dillon until the 1960-61 TV season) to 1975 on CBS. Airing Saturday nights at 10:00 PM, the show follows U.S. Marshall Matt Dillon who upholds the law in 1870s Dodge City, Kansas. Enjoyed by millions over the years, Gunsmoke is often called television's greatest Western. The show currently airs weekdays on MeTV network at 1:00pm and on Encore weekdays at 4:15pm.
The Cast/Characters
Latest News Feeds
Featured article
Matt Dillon (James Arness) was the central character featured on both the radio and television versions of Gunsmoke. He serves as the U.S. Marshal of Dodge City, Kansas, who works to preserve law and order in the western frontier of the 1870s. The character was created by writer John Meston, who envisioned him as a man "...whose hair is probably red, if he's got any left. He'd be handsomer than he is if he had better manners but life and his enemies have left him looking a little beat up, and I suppose having seen his mother (back about 1840) trying to take a bath in a wooden washtub without fully undressing left his soul a little warped. Anyway, there'd have to be something wrong with him or he wouldn't have hired on as a United States Marshal in the heyday of Dodge City, Kansas." See more:>
Getting Started
Not sure where to start?